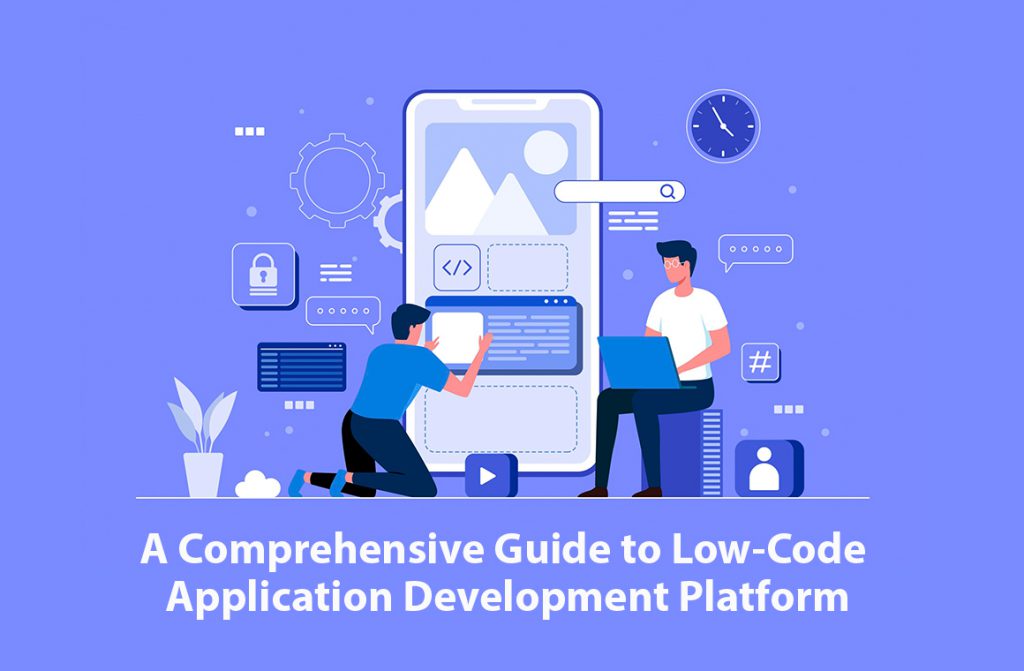 Low-Code
The low-code solution is an app development tool and through its unique features such as data binding, query builder, code generation, flow programming, etc, it helps developers build enterprise-level level applications in half the time, to save cost and increase efficiency in the development.
In other words, you can say it's an application development strategy that allows for fast app development and delivery with little coding. In fact, Low-code eliminates the need for extensive coding to speed up the process to develop enterprise-level apps in a very short time.
The concept of low-code is considered to be a cutting-edge concept. It is because there is increased popularity for development platforms that simplify code and automate development processes for developers.
Rather than using traditional coding methodologies, a low-code solution provides a coding environment for developing software applications using an interactive visual interface.
Low-Code Solution
Automatic code generation, flow programming, and highly interactive features with drag-and-drop facilities are all notions that low-code development platforms are built on.
When compared to the traditional software development approach, the low-code development approach allows for a substantially faster development experience.
Low-code allows for the speedy delivery of applications with the least amount of effort, as well as the simplest environment setup, configuration, and training.
IT enterprises can use low-code solutions to integrate building blocks into their applications to simplify work processes for better efficiency. There are various components in the low-code tool that can be used to create large-scale applications in significantly less time.
Why Low-Code Development is the best choice for developers
There are numerous advantages to using a low-code tool. Most importantly, it accelerates the development process while lowering expenses. Low-code also decreases reliance on IT developers who have extensive programming knowledge, as it makes it easy for even new developers to code easily to develop enterprise-level applications. It also allows other departments to participate and understand the development process in an easy manner.
Advantages of low-code Solution:
Simple and intuitive user interface.
Reduces the time to market by speeding up development.
Lowers the level of complexity in huge projects.
Scaling apps from testing to production.
A lot of integrations make development more versatile.
Who Can Use Low-Code Development?
Experienced and new developers both can benefit greatly from low-code platforms. Developers can use low-code to bring their own models to the platform as integrations. Let's describe it in detail for beginners and developers.
Low-Code for Beginners
Low-code tools are easy to use and don't require any coding experience. Depending on the platform, low-code tools make it easier for newcomers to get started with advanced app development projects in a short time.
Low-Code for Developers
Low-code platforms can be quite beneficial to experienced developers. It allows developers to integrate their own models into the platform. Low-code development also helps programmers concentrate on the application's functionality and optimization rather than on tedious coding tasks.
Is Low-Code the Future of Software Development?
Low-code solutions have a significant impact on the overall market now, which is why it's becoming more common. Low-code solutions assist businesses to minimize the time it takes to bring enterprise-level applications to market, saving money on hiring additional software developers. Meanwhile, it provides the speed, simplicity, and flexibility to make enterprise-level applications.
Market data says the adoption of low-code platforms is expected to rise sharply in the future. As a result, more than 65% of apps will be produced utilizing low-code solutions by 2024. More than 75% of large businesses will employ at least four low-code development tools.
For enterprises of any scale looking for the best low code tool, DEW studio can be the best choice for them because it has some distinctive features of data binding and query builder that most of the tools in the market don't have.