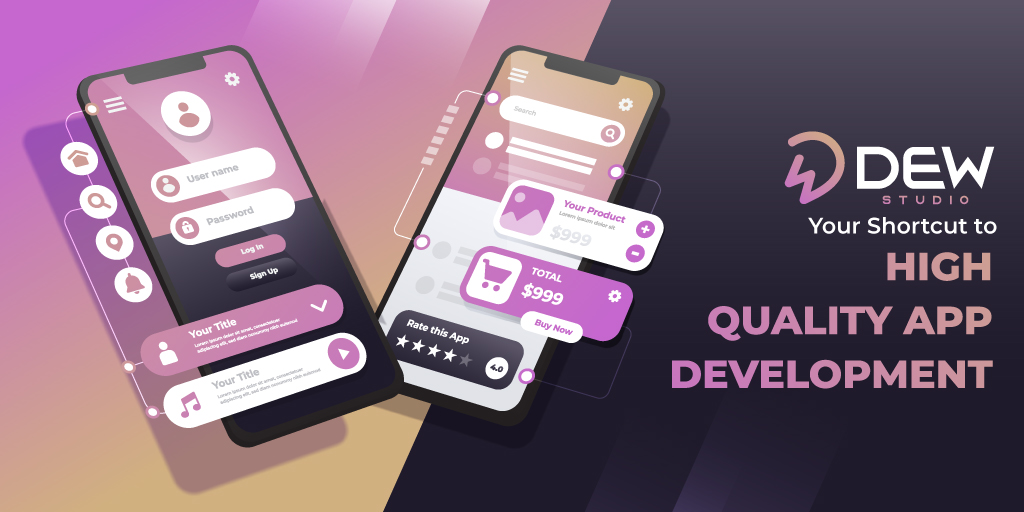 In the digital era, where the demand for innovative mobile applications is skyrocketing, coders, app developers, and students are continually seeking ways to streamline the app development process. That's where DEW Studio steps in as your ultimate shortcut to high-quality app development. 
In this article, we will explore the fascinating low code development technology and how DEW Studio serves as the best low code app development platform for rapid, smarter and cutting-edge app creation.
What is Low Code Development?
Low code development is groundbreaking in creating software applications with minimal hand-coding effort. It makes it easy for developers and individuals without coding experience to craft robust and functional applications using intuitive visual interfaces. Essentially, low-code development democratizes the app creation process by simplifying the difficulties of traditional coding.
It accelerates the development process and creates feature-rich applications within a matter of days to a few weeks. You'll enjoy designing an entire app with drag-and-drop simplicity and pre-built templates!
DEW Studio: Boost Your App Creation with Low Code Brilliance
DEW Studio emerges as a frontrunner in the low code app development platform industry. It provides an intuitive interface that makes the app development process more intelligible and easy. 
You can develop and deploy apps faster and more quickly with DEW Studio's drag-and-drop features, reducing development costs and time by more than 50%.
How DEW Studio Simplifies App Development
Using DEW Studio is as easy as pie. You don't ought to be a coding genius to get started. 
User-friendly platform.
No coding expertise is required to begin creating apps.
Visual interface with pre-built templates, widgets and components.
Customization options are available.
Streamlines app development from prototyping to deployment.
The Benefits of Choosing DEW Studio
Rapid Development: DEW Studio significantly cuts development time, helping you market your app faster.
Cost-Efficiency: You save on labour costs and resources with reduced development hours.
Customized Solutions: No two apps are the same, and we customize our development process accordingly.
User-Friendly: The intuitive interface means anyone can become an app developer.
Scalability: DEW Studio serves the needs of projects of all sizes, from small-scale endeavours to enterprise-level applications.
Quality Assurance: Built-in testing and debugging tools ensure a polished end product.
Timely Delivery: DEW Studio is dedicated to delivering your app on time so you can launch it when you planned.
Affordable: Our pricing is designed to be competitive while maintaining top-notch quality. You can start your free trial anytime.
Client-Centric Approach: We keep you involved throughout development, listening to your feedback and making adjustments as needed.
Post-Launch Assistance: Beyond the launch, our commitment to your project continues with ongoing support and maintenance, ensuring a seamless and up-to-date app experience.
Robust Security and Privacy: Your app will adhere to the most stringent security and privacy protocols, safeguarding your users' data.
Seasoned Professionals: Our team comprises highly experienced developers and designers in crafting applications for diverse sectors such as healthcare, education, and finance.
When you choose DEW Studio, you're choosing a trusted partner dedicated to making your app development journey smooth, efficient, and successful. Let it be your timesaver for high-quality app development. Reach out today and kickstart your app project!
From Finance to Healthcare: The Versatility of Low-Code Applications
Low code development is not confined to any specific niche. It's a versatile solution with applications across various industries:
Business: Rapidly develop internal tools and customer-facing apps.
Education: Create interactive e-learning platforms.
Healthcare: Build secure patient management systems.
Retail: Develop customized shopping apps.
Finance: Provide banks with easy-to-use digital products and services.
Government: Streamline public services with efficient apps.
Insurance: Create a single interface for policyholders to update data and manage claims for simplified and faster claims process.
Getting Started with DEW Studio
At DEW Studio, we understand that time is of the essence in the fast-paced world of app development. That's why we've designed our services to be your shortcut to success. Here's why you should choose DEW Studio for your app development needs:
Eager to start your app development journey with DEW Studio? Here are straightforward steps to guide you:
1. Sign Up: Create your DEW Studio account.
2. Choose a Template: Select a template that matches your app idea.
3. Customize: Drag and drop components, add features, and make it your own.
4. Test: Use built-in testing tools to ensure everything works seamlessly.
5. Publish: Deploy your app to your desired platform.
Success Stories: Achieving Excellence with DEW Studio
To illustrate the remarkable potential of DEW Studio, let's take a look at some success stories from real users who have harnessed its power to create exceptional applications.
Check out these success stories showcasing the immense potential of our low code solution:
ListenMD: iOS Patient App
ListenMD utilized DEW Studio to develop an iOS app that enhances the patient experience, providing access to vital healthcare resources.
ListenMD: iOS Doctor App
In addition to the patient app, ListenMD leveraged DEW Studio to create an iOS app for doctors, streamlining their interactions with patients and medical records.
KeepFluent: iOS App
KeepFluent harnessed DEW Studio's capabilities to build a dynamic and engaging e-learning platform that offers language learning opportunities to a global audience.
eNotary On Call: Web Application
This innovative and top-notch web application for online notarization is crafted using DEW Studio, simplifying and expediting the notarization process.
Mantra Exclusives: Web Application
Mantra Exclusives chose DEW Studio to develop a jewellery-focused web application, providing jewellery enthusiasts with a captivating online shopping experience and increased sales.
Frequently Asked Questions (FAQs)
1. What is the pricing model for DEW Studio?
DEW Studio's low-code app development platform provides a range of customizable pricing options, complete with a complimentary trial period. Additional features and support are available with premium plans.
2. Can DEW Studio be used for both Android and iOS app development?
Yes, DEW Studio is compatible with Android and iOS, making it a versatile choice for app development.
3. Is coding experience necessary to use DEW Studio?
DEW Studio is designed for users of all skill levels. You can create apps with minimal coding knowledge with its drag-and-drop interface. Nevertheless, having coding skills can be a valuable asset.
4. How secure is DEW Studio for app development?
Our low code tool prioritizes security. Your data and apps are protected with state-of-the-art encryption and security measures.
5. What types of assistance and resources are provided to users by DEW Studio?
DEW Studio ensures holistic assistance with an array of resources, including detailed documentation, step-by-step tutorials, and a highly responsive customer support squad.
6. Can I try DEW Studio for free?
Absolutely! We offer a free trial of DEW Studio so you can explore its features and capabilities firsthand.
7. Is DEW Studio a good fit for my business?
DEW Studio is versatile and can cater to various industries, making it a valuable asset for businesses of all kinds.
Final Note!
DEW Studio is your gateway to efficient, low code app development. By using this tool, students, developers, and coders can create their apps without struggling with the steep learning curve that comes with traditional coding. With its user-friendly interface, extensive features, and success stories to back it up, DEW Studio is poised to revolutionize the way we create mobile applications. 
So, why wait? Begin your app development adventure with DEW Studio and turn your ideas into a beautiful and scalable app!