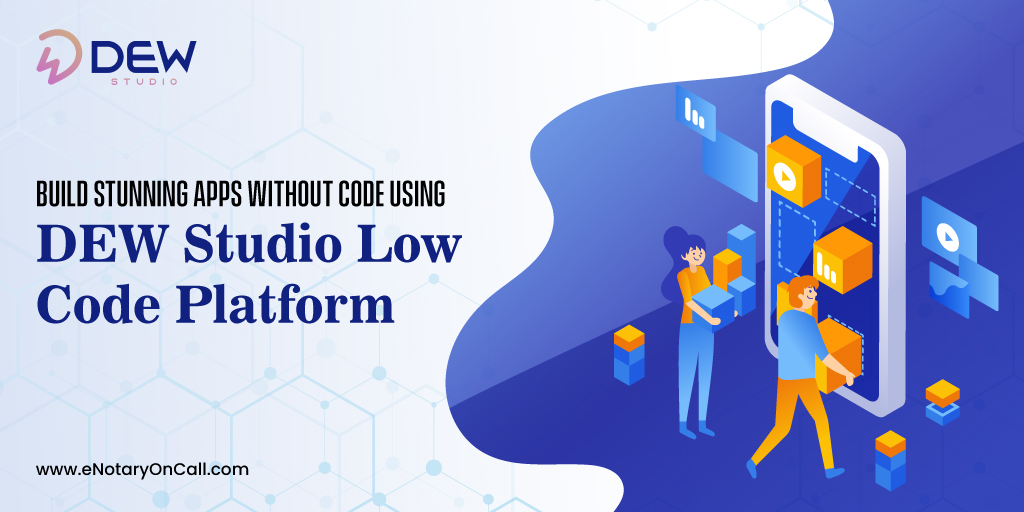 Many individuals, entrepreneurs, and small businesses refrain from app development due to the misconception that it requires complex coding skills and substantial investments. That's where DEW Studio's low-code platform steps in, offering a revolutionary solution to transform your app dreams into a feature-rich app without writing extensive lines of code.
In this article, we'll explore the features of DEW Studio's low-code app development platform, understand how it empowers app creation, and discover the benefits of building sophisticated apps without the complexity of traditional coding. 
The Rise of Low-Code Platforms
The traditional approach to app development involves extensive coding, making it a time-consuming and costly process. However, the landscape has evolved dramatically since the rise of low-code platforms like DEW Studio. These platforms are designed to simplify app development, enabling individuals with various backgrounds to create apps effortlessly.
In the app development industry, low-code application platforms are driving a revolution. They offer a visual interface, allowing users to drag and drop elements to build an app. This approach drastically reduces the learning curve and the time required for development, making it accessible to a broader audience.
DEW Studio: Your Launchpad to Codeless App Development
DEW Studio is a leading player in the low-code app development platform space, providing a user-friendly, powerful, and versatile solution for creating mobile and web apps. Now, anyone with an idea can become an app creator, regardless of their coding knowledge. Whether you're a creative person, a student, an entrepreneur, or a business owner, building an app is effortless.
Let's see what makes DEW Studio stand out.
Intuitive Drag-and-Drop Interface
DEW Studio's intuitive drag-and-drop interface ensures that you can create brilliant apps without any technical coding skills. The user-friendly design allows you to build your app by placing elements where you want them, just like assembling pieces of a puzzle.
Pre-Made Templates
The low-code platform comes equipped with a wide variety of masterfully designed templates. Whether you need a business app, an e-commerce solution, or a personal project, these templates offer a head start, saving you both time and effort.
App Customization
One size doesn't fit all, and DEW Studio recognizes that. You can tailor-make your app to align with your branding, style, and specific needs. Apps are designed to reflect your vision, not follow a cookie-cutter model.
Real-Time Testing
Building an app is one thing, but knowing how it performs is another. DEW Studio lets you instantly preview and test your app as you create it. This real-time testing feature ensures you're always aware of how your app is shaping up.
Seamless Integration
A successful app often relies on information gathered from multiple sources and services. DEW Studio provides seamless integration capabilities, allowing you to connect your app to databases, APIs, and other data sources without a hitch.
Benefits of Building Apps Without Code
The advantages of using DEW Studio's low-code platform extend far beyond simplified development. Let's explore the benefits you'll enjoy when building apps without traditional coding.
Faster Time-to-Market
Traditional app development can be a lengthy process, but with a low-code solution, you can significantly reduce your time-to-market. Quickly prototype your ideas, make adjustments on the fly, and launch your app sooner to seize opportunities.
Cost-Efficiency
Coding expertise often comes at a high price, making app development costly. Low-code software eliminates the need for costly developers, freeing up funds for other critical aspects of your business.
Accessible to All
DEW Studio makes app development accessible to a wider audience. You don't need to be a coding genius to develop an app. This inclusivity opens up new possibilities for entrepreneurs, small businesses, and creative individuals.
Flexibility and Adaptability
The best low-code tools, like DEW Studio, offer flexibility and adaptability. You can easily make changes to your app as your business evolves, ensuring that your technology keeps pace with your growth.
Conclusion
DEW Studio's low-code platform revolutionizes app development, enabling it to be more accessible to more people and aligning with the future of technology. It empowers entrepreneurs, small businesses, and creative minds to build top-notch apps.
If you've ever cogitated about creating your application but abstained from the twists of coding, DEW Studio's low-code app development platform is your solution. It's time to acknowledge the low-code revolution and build the exclusive app you've always envisioned.
Let DEW Studio guide you through this journey and watch your ideas come to life effortlessly. Your app is just a few clicks away!